Colonial Legacies in Colombia: Impact on Indigenous, Afro-descendant, and Black Women and Pathways to Change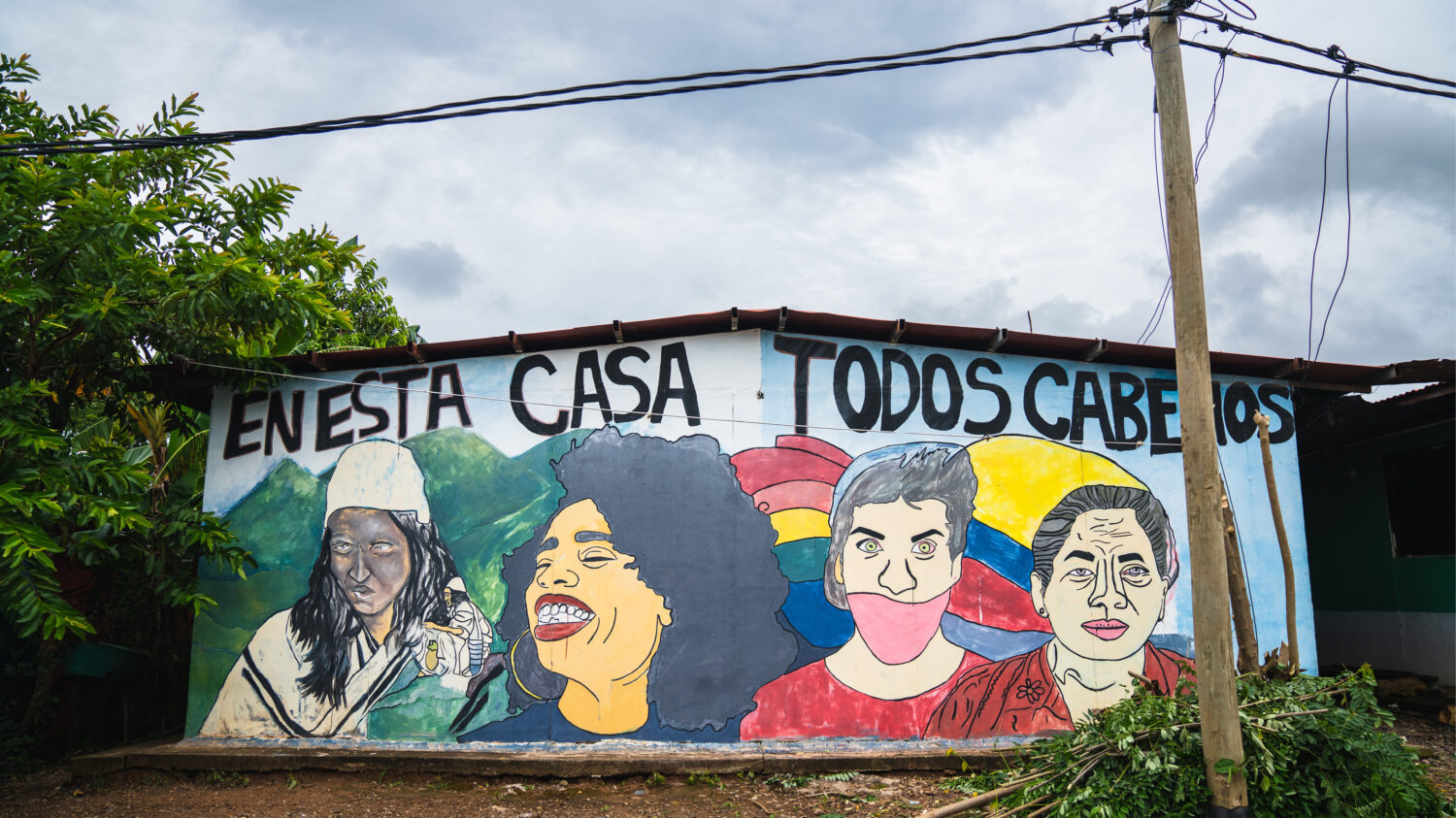 Project: Addressing post-colonial legacies in transitional justice
Overview
This policy paper results from a collaboration between Corporación Alianza Iniciativa de Mujeres Colombianas por la Paz – IMP and the research project Addressing Postcolonial Legacies in Transitional Justice, which forms part of the UKRI Gender, Justice and Security Hub. The report is based on in-depth interviews with 16 women peacebuilders located throughout Colombia and has three main aims:
1) To analyse the colonial origins of the contemporary inequalities that affect, particularly, women who belong to ethnic groups in Colombia.
2) To identify the ways in which indigenous, Afro-descendant, and black women have been able to tackle these obstacles individually and collectively.
3) To offer some specific policy recommendations.
Key findings
Different aspects of colonial legacies were identified and discussed, including the following:
The historical relationship between contemporary inequalities and the invasion or conquest of the "Americas" can be seen most clearly in the racial hierarchies that were constructed centuries ago and which remain firmly in place up in the present day.
For the indigenous women we interviewed, colonialism continues to be relevant in the context of centuries of resistance.
For their part, for Afro-descendant and black interviewees, colonialism marks the beginning of their experience of slavery and exposure to violence.
Moreover, the historical source of the contemporary discrimination experienced by racialised women in Colombia is evidently the colonial project.
Alongside discrimination is the stigmatisation of women who belong to an ethnic group, which again finds its roots in colonial times.
To a large extent, this stigmatisation is a result of values learned at home.
Another challenge identified by the women who participated in the study concerns the exclusionof indigenous, Afro-descendant, and black women from educational and employment opportunities, and therefore from local, national, and relevant decision-making spaces.
Finally, it is important to highlight that indigenous, Afro-descendant, and black women have suffered disproportionately from the impact of violence, both within and beyond the context of the armed conflict.
Three pathways to change were identified, including the following:
Many interviewees noted that the primary route for indigenous, Afro-descendant, and black women to tackle multiple obstacles in their way is via education.
The second area which the interviewees referred to as crucial in this process is participation; in order to bring about change, it is important that they assume an active role in public decision-making.
The last area for action that emerged in the interviews was a favourable legal framework.
Recommendations:
Education was singled out as a key area for change, with three policy recommendations being made in this field:
Proposal 1: Include the issue of colonialism and its legacies in educational curriculums, from a critical perspective.
Proposal 2: Strengthen the Ethno-education programme.
Proposal 3: Develop educational programmes from an intercultural perspective for all Colombians.
Facing up to deep-rooted structures in the fields of politics, economy, society, and culture is an important task. But perhaps it is the right moment to do so. Several interviewees commented that, particularly over the past two or three years, while it has not formed part of the national conversation, colonialism has been called into question. It is also important to underscore that these context-specific developments are supported by long struggles of resistance by indigenous peoples in their ancestral territories and the incidence of Afro descendant organisations, which look to decolonise narratives about the past and exalt their own customs.
Image credit: UN Women (CC BY-NC-ND 2.0)