Obstacles to Feminist Work: the UKRI cuts and where we stand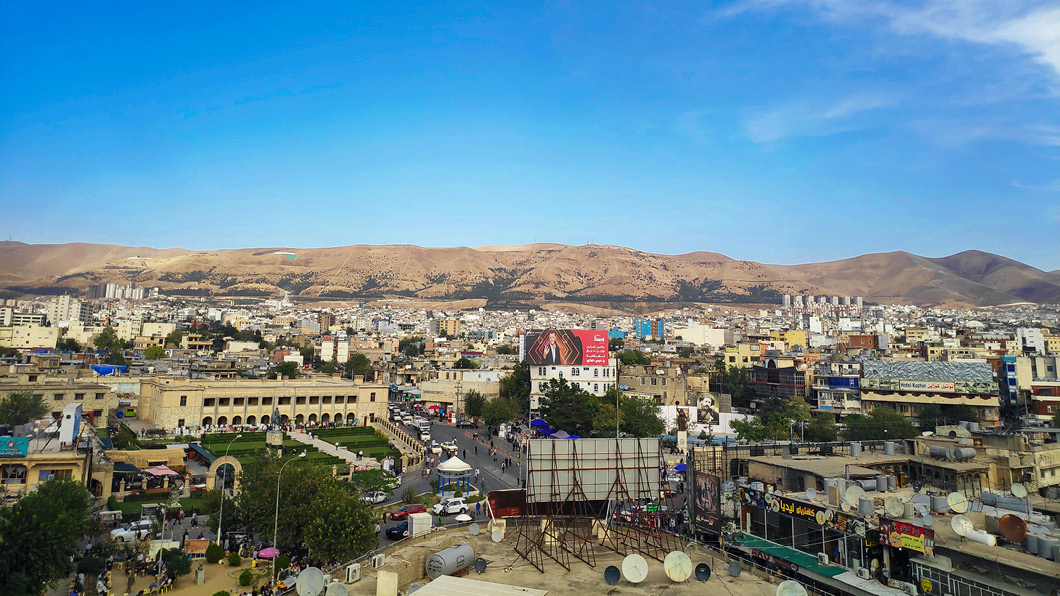 There are times when we all wonder why we are doing what we are doing – when we feel exhausted and depleted of energy and hope. The recent weeks have been like this for me. The sudden announcement of the UK Research and Innovation (UKRI) cuts , the uncertainties that followed, the discussions around which principles would determine the cuts to be made, the conversations with my team about their livelihoods and the future of our project: all of this has taken a huge toll on me, as it has on my colleagues from all 12 hubs that are affected by the cuts.
As an academic and a poet, I enjoy ideas and words. I am not an administrator by nature. I don't enjoy management and bureaucracy. I would much rather spend hours discussing an argument with students, pondering an idea in my head, mulling over words and sentences. Yet back in 2014, when I started as a full-time assistant professor in the English Department of the American University of Iraq, Sulaimani, I realised that if I wanted to promote teaching feminism and gender studies, research gender related issues, and help create a different understanding at the community level, I would have to start something from scratch, in the absence of tangible support.
This was soon after the spill over of IS from Syria to Iraq, the economic crisis which was fuelled by the drop in oil prices and conflict between the Kurdistan region and the central government in Baghdad, the Yezidi genocide and the enslavement of thousands of women and children, and the forced displacement of two million civilians from Syria and Iraq , many of whom ended up in Kurdistan, where we are based. All funding was directed towards addressing the humanitarian crises. Education was not a priority, and no one was in a position to help. I was regularly told that "now is not the right time" to advance gender studies.
I founded the Center for Gender and Development Studies (CGDS) against this backdrop. I believed that the humanitarian crisis, the genocide, and the sexual enslavement of Yezidi women made the struggle for gender justice even more urgent and it could no longer be ignored or delayed. I started writing funding proposals (with limited knowledge and experience in this field), providing gender-sensitive training to different sectors of the community, and developing feminist courses. I turned to friends and colleagues for support, asked for donations, and solicited the development of gender related courses in several departments. I was lucky to obtain a donation from Jan Warner, a friend who has always had faith in me, to hire our first project manager in 2015. I was overjoyed when colleagues showed an interest in developing courses in the English, Social Sciences, and Math and Science departments. Other colleagues, in particular Dr. Lynn Rose , joined CGDS and worked with me voluntarily to consolidate our work.
In 2017, we announced the initiation of the first gender studies minor in Iraq . In 2018, we received our first major grant, from the European Union , to develop gender studies resources in Arabic and Kurdish. In 2019, we received funding from the UKRI's Global Challenges Research Fund for a five-year research project entitled 'Masculinity, Violence, and Prevention.' This was part of the Gender, Justice and Security Hub, which connected us to a large network of scholars and activists in seven focus countries and beyond who are working on similar issues in various contexts.
On an institutional level, each successful step has meant growth for CGDS in terms of reputation, trust within the community, and human resources. As the reputation of CGDS grew, we were able to attract and recruit great talents in the areas of administration and scholarly research. It has taken time to build trust, for capable people to take a chance on us, leave their secure jobs, and join our team. Despite the backlash, resistance, and defamation campaigns targeting CGDS and particularly myself, we were able to create a space where we could have difficult conversations with students and community members, challenge and problematise what is seen as normal, and conduct research into sensitive issues to reveal the hidden face of everyday injustices and inequalities.
It has taken time to build trust, for capable people to take a chance on us, leave their secure jobs, and join our team.
The sudden cuts not only undermine our project on which we have built hope and for which we had done a lot of groundwork, but they also erode trust in us. We run the risk of no longer being seen as the vibrant centre where important and novel ideas and projects are developed and where there is a degree of financial security for staff members. The last weeks felt as if the rug was being pulled from under our feet, as we were stopped mid-project before we had time to deliver the planned outputs and outcomes. Fundraising is such a lengthy process, and the abruptness of this change means that it will take us some time to build back up and continue to grow instead of declining.
Many of us do bureaucratic work because it is an important step to getting to where we need to be: producing and sharing knowledge, teaching skills and ideas, changing the way the world is organised. Founding centres, developing funding proposals, directing projects, and reporting on them are all tedious tasks, and they take time away from what we are really good at: researching, writing, and teaching. But we do them because we know that this is the only way to create the space to do the research that we find important, to ask the questions that are difficult, to teach the courses that will inspire and challenge our students, and continue to engage in ways that are meaningful.
Fundraising is such a lengthy process, and the abruptness of this change means that it will take us some time to build back up and continue to grow instead of declining.
To accept this trade-off, to go through the whole process, to be successful, and then to be stopped in the middle, feels futile. We are back to where we began, facing all the uncertainties, self-doubts, and discouragements that always appear whenever anyone wants to move or change something. It is so much easier to be at rest, to teach courses one has taught before, to be responsible only for ourselves, to feel secure in our employment, and not to face backlash and backstabbing because of rocking the boat. It is so much easier not to apply for funds, not to be bothered about why things are the way they are, not to look for solutions, not to have the difficult and exhausting conversations. But we do these things, and we will continue to do them because of who we are and what we want, and because this is the only way change will come.
It sometimes feels as we are moving one step forward and two steps back, but this kind of thinking stops us from trying. And we must continue to try. We must continue to push back against regressive forces, resistance, and backlash. We must continue because, in the end, this is the only way we know to get to the other side.
Image: Sulaymaniyah City, Kurdistan-Iraq. Credit, Zana Lati f .
Choman Hardi is a co-director on the UKRI GCRF Gender, Justice and Security Hub researching masculinities and sexualities.