Migrant Women in Lebanon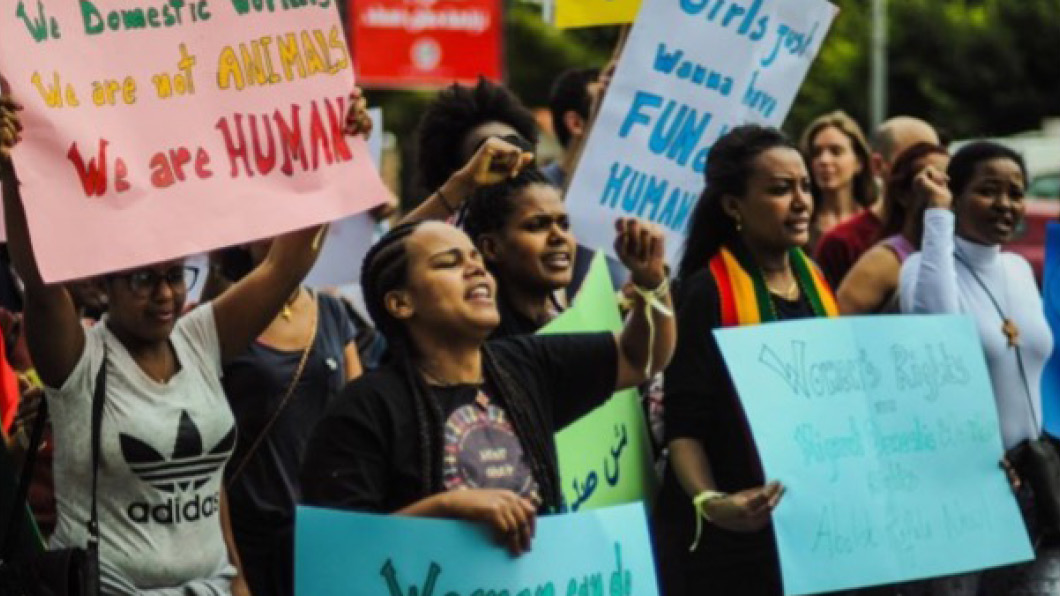 This blog builds on the recent report "Gendered Dynamics of International Labour Migration: Migrant Women in Greater Beirut, Lebanon", looking at migrant women's lived experiences and work conditions in the Lebanese capital city, Beirut. To-date, we know little about this topic, and what we do already know does not take into consideration the impact of three tragic events in the country: the economic crisis, the 2020 Beirut explosion, and the COVID-19 pandemic. In addition to this, generally, there are not many studies that look at the migration patterns and experiences of women migrant workers within South-to-South migration circuits involving low- and middle-income countries .
Women migrant workers make up the majority of migrants living in Lebanon. They constitute, for example, about two-thirds of the employees in the service sector in the country, with 75 per cent of women listed as domestic workers . Most undocumented migrants and refugees reaching Lebanon, particularly those fleeing gender discrimination and the atrocities of the war in Syria, are also women. These migrant women are engaged in informal work relations, including sex work, with no work contract .
The study is centred around interviews with 21 migrant women in three sub-groups: 12 migrant domestic workers (MDWs); five Syrian professionals; and four undocumented Syrians. We also spoke with three NGO practitioners. The research set out to explore how and why migrant women migrated to Lebanon and their lives in their home country, as well as their experiences of living, working and moving around in the Lebanese capital city, Beirut. The study also looks at how migrant women show agency, and the ways in which they face challenges within the context of Lebanon's crises.
Migration flows to Lebanon
Lebanon is receiving both documented migrant workers and undocumented migrants, including refugees, who often work in informal sectors. Recently, it was estimated by the International Organisation of Migration that over 400,000 migrant workers are living in Lebanon. These workers come from both close and distant countries like Egypt, Ethiopia, Sudan, Bangladesh, the Philippines and Sri Lanka. Many of these workers come to Lebanon to earn a higher income and to support their families through remittances.
Refugee figures to the country are also high. Syrian refugees in Lebanon are more than one-quarter of the Lebanese population , at approximately 1.5 million, and more than half of them are adult women. These women work in the informal sector, which means that they are vulnerable to rights violations and other abuses, and for them obtaining legal residency is nearly impossible . Furthermore, Syrian women are more and more at risk of becoming victims of human trafficking for sexual exploitation .
This migration flow to Lebanon is happening against the backdrop of Lebanon's triple crisis: the COVID-19 pandemic, economic collapse, and political turmoil exacerbated by the disastrous Beirut port blast of August 2020. Vulnerable groups in Lebanon, such as migrant women, are the most affected. Job losses, reduced or unpaid salaries and currency devaluation have led to rising numbers of female migrant workers who cannot meet basic needs, like food and shelter . Simultaneously, levels of gender-based violence, including sexual violence, and poverty have risen significantly among Syrian refugee women .
Our findings
The women interviewed were for the most part low-skilled, aged between 21 and 41 years old. The majority of the women had migrated from Ethiopia and Syria, and had spent between 1 to 20 years in Beirut. While most of them had a residence permit, work permit and visa, four of them were undocumented and four were Lebanese-Syrian (with a Lebanese mother/husband and a Syrian father). Twelve were MDWs (10 Ethiopians, one Nigerian and one Filipino) who came to Lebanon as legally registered migrants under the kafala system; five were Syrian documented migrant professionals (one homosexual waitress, one translator, one frontline NGO officer and two teachers); four were undocumented Syrians (two trafficked women sex workers and two transwomen unemployed refugees, occasionally engaging in sex work).
In relation to the MDWs, the choice of Lebanon as a destination was, to a great extent, determined by the market of the recruitment agencies under the kafala system. The main reason for leaving home was that of finding either their first employment or a new one with a higher income. The MDWs wanted to change their conditions of poverty and to open up new opportunities for themselves. Being able to make, send, and save money was a source of empowerment and pride, which in turn made their working and living conditions in Beirut more bearable.
The MDWs described their stay in Lebanon as temporary, often up to the end of their contract, and did not declare that they wanted to build a new life in the country. This is typical of the circular migration of MDWs. Many of them did not go to public spaces, had no social life and attended no social events. Instead, they spent their little free time on their phone, watching the television and talking to their family back home. The use of technology as a virtual space of freedom , family bonding and other coping strategies warrants further study in relation to MDWs, in Lebanon and elsewhere.
The four undocumented Syrian migrants can be seen as representative of gender-based violence within the family and in society being a driver for migration, made even worse by the long-term war . Two women were trafficked into sex work in Beirut and two transwomen were deceived in relation to the conditions they would find at their destination, including some pressure to engage in sex work. All four migrants had a strong desire to leave the intense familial and social gender discrimination and abuses, which they were finding unbearable in their home country. And far worse than what they were enduring in Beirut.
For the two sex workers, being able to make, save, and send money to their family was a source of empowerment, as for the MDWs. Furthermore, for all the four undocumented Syrian migrants, seeking support from charities, in relation to sexual and reproductive health, or to their status as refugees, is to be regarded as a significant act of self-protection. Sadly, the support they received was not considered particularly helpful by the women, especially in relation to their rights as refugees. Despite the hardship, the hope in this group of women is notable, and spanned from getting married and having a family, to migrating to more tolerant countries and having their sex reassignment surgery, for example.
Finally, the findings from the sub-group of the Syrian documented migrants suggest that we know little about the experiences of professional, skilled migrant women, in Lebanon and elsewhere. Looking at skilled migrant women reminds us that migrant women play a role in several realms, beyond domestic work and care, in the global labour market which has numerous circuits of mobility, including South-to-South. For example, two of the women interviewed had a previous story of family migration from Syria to the UAE.
The experiences of the five Syrian professionals open up two overlooked issues. One is that of the effects of the Syrian war and the Lebanese triple crisis on what we can refer to as middle-class Syrian communities in Lebanon. Secondly, the women who had Lebanese mothers described the policies of the government as patriarchal. This is because they do not grant citizenship to the offspring of Lebanese mothers. This group lived between feeling integrated and excluded as foreigners belonging to the discriminated Syrian minority. While they were well educated, had a good job, and had built a life full of activities and hobbies – that the triple crisis heavily impacted – these women felt that they were victims of forms of institutional racism.
The Lebanese NGOs practitioners interviewed described the impact of the crises on MDWs, as well as on undocumented migrants from Syria, as far more significant and devastating than that reported by the migrant women in this study – who mainly suffered from social isolation and reduced income. But social isolation and loss of income are not the only impacts of Lebanon's triple crisis. Gender-based violence and the violation of sexual and reproductive health rights also increased – the NGOs practitioners highlighted. Undocumented female migrant workers were impacted the most, at a time where in-person support became impossible. In addition, two NGO practitioners explained that many MDWs were fired, not paid their salaries, abandoned in front of their embassies, and were desperate to return home .
Overall, the study shows us that in Lebanon, women migrant workers do not enjoy standard labour conditions and suffer several forms of discrimination, based on their gender and ethnic background. The triple crisis exposed and made worse the lack of legal resources and policies for the protection of female migrants in Lebanon, as well as in their home countries. Their basic support needs are not catered for, and there is urgent need for better legislation, services, awareness and education.
But the crisis may have also created conditions for bottom-up changes. During the interview, one practitioner was able to draw a picture of hope: the growing number of MDWs falling out of the exploitative kafala system might be the promising start of a bottom-up, freelancers-based alternative to the over-powerful, unjust system. We hope to be able to witness more grassroots insurgences which show the resilience and creativity of female migrant women, in Lebanon and elsewhere.
You can read the executive summary of the report here, and the full report here.