The Istanbul Convention: An interview with Eren Keskin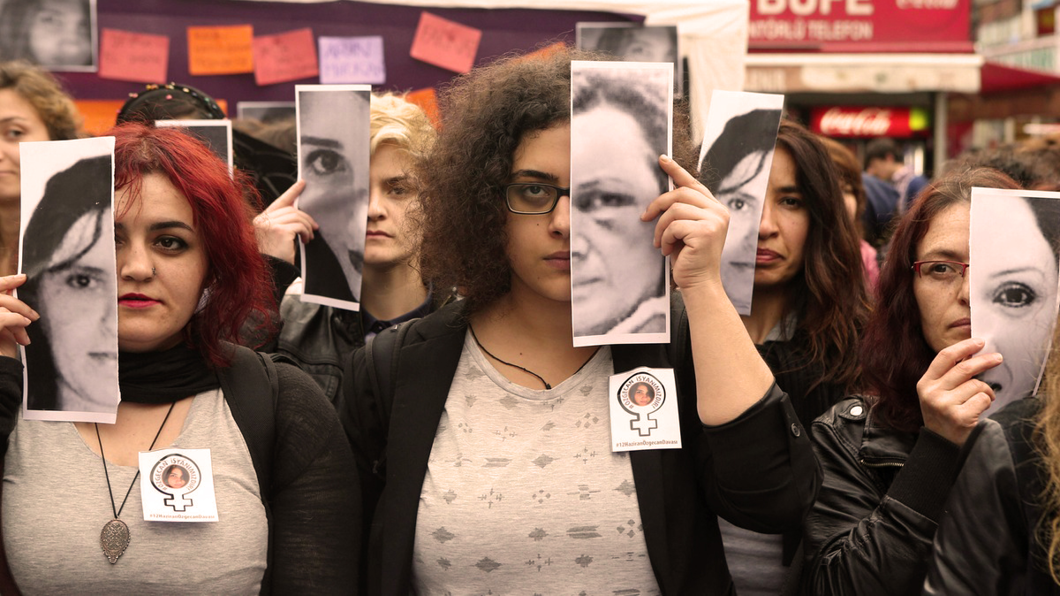 Warning: This interview deals with topics that are especially grave and may cause trauma invoked by memories of past abuse. If you have experienced violence and need assistance, please refer to this list of country help lines provided by UN Women .
Early on Saturday 20th March 2021, Turkey's President Erdoğan issued a decree pulling Turkey out of the Istanbul Convention (official known as the Council of Europe Convention on preventing and combating violence against women and domestic violence ). Adopted in 2011, the Istanbul Convention establishes the protection, prevention, prosecution and ultimately the elimination of all forms of violence against women, including domestic violence and specific measures for the protection of migrant, refugee and asylum-seeking women.
While feminicide has increased in Turkey during the Covid-19 pandemic, Turkey's threat to withdraw from the Istanbul Convention was always looming in the background. Since the announcement protests have ensued by women's rights groups and LGBTQI+ activists across the country to raise awareness of Turkey's high femicide rate and support the Istanbul Convention. Opponents however, blamed the document for threatening traditional family structures and challenging heteronormative understanding of gender identities.
Against this background, we interviewed Eren Keskin, lawyer and Co-Chair of the Human Rights Association, on the issue of violence against women and transgender people in Turkey through the perspective of the legal system, the problems in the implementation of the Istanbul Convention for the past 10 years, and what its withdrawal means for women and transgender people in Turkey.
Ezgi Tuncer: Could you please briefly tell us about your professional practice?
Eren Keskin: I am a lawyer dealing with political cases, torture cases, cases related to violence against women and disappearances in custody.
I started practicing law in 1984. In my first few years I started to get involved in political prosecutions, in general I was involved in the cases of Kurdish politicians. In 1995, we as lawyers were dealing with incidents of torture, mostly because we were involved in political trials. Disappearance in custody, counter-guerrilla murders, torture… The nineties were the years when torture was very common. But there was an untold type of torture – sexual violence. It was done to both men and women, but women were particularly affected by this and nobody was speaking.
In 1995 because I used the concept of "Kurdistan" in an article that I wrote I was sentenced under the famous eighth article in the Anti-Terror law, which included the crime of separatism. I went to prison for two and a half years. I stayed with Kurdish women in prison and we developed a more equal relationship there. We started talking not like a lawyer and a client, but as friends. One day one of the girls came to me, she said, "You know what was done to me, don't you?" I said, "Of course, I know you were tortured; we filed a criminal complaint." She said, "Do you know about the rape?" and then she passed out. So, after this talk, I started asking all Kurdish women in prison questions on this issue.

Everyone was questioned naked at least once in the nineties. Without exception, all of them were sexually abused. By word or by hand or in another form. Some of them were also subjected to sexual assault and rape. There were still those who were afraid to talk. But slowly they started talking. I asked, "Why did you never say that?" I received the same reply over and over again, "I was embarrassed, scared, I felt dirty".
At this point I started thinking: "Why is this crime going unpunished, why is it not talked about?" Because this is the form of torture that affects women the most. Sexual torture is the only way to force them to say everything, even if she has not committed the crime, she has to confess. Let alone sexual assault, being forced to undress in front of men is also a kind of torture. Women who did not even get undressed in front of their husbands, and who were afraid of undressing, were questioned naked in the presence of many men they did not know.
There was an untold type of torture – sexual violence. It was done to both men and women, but women were particularly affected by this and nobody was speaking.
After I got out of prison, I met a German lawyer called Yuta Hermans. She was working on a project specifically related to lawyers who were killed and tortured in Kurdistan. She also spoke Turkish. We became friends and started chatting. I said, "I want to work in this field, especially in this area, but I don't know how to start." Then Heidi Wedel from Amnesty International's Germany Section said: "I can find you a resource from a feminist institution – open an office and we'll support you." So, in 1997, together with Yuta we established the Legal Aid office against Sexual Abuse and Rape in Detention.
At that time, the war in Kurdistan was intense. We were going to the villages where the clashes took place. In the villages, women were telling us, "The soldiers are doing terrible things to us." When we said "What is it?" They would say "we cannot explain, our husbands will find out" or "Our fathers will find out", so they would not talk any more.
A publication was made about the establishment of our office, so then suddenly, a lot of applications came to us from Kurdish women. Both the women in prison and the women we met in field studies started to speak. Then, gradually we started to visit female detainees. LGBTIQ individuals and trans women also started to apply to us. Somehow our office started to be recognised. We have been continuing since that day.
During that time, the phrase for "violence against women" in the Turkish Penal Code was "crimes against general morality and family". There was no definition of rape. The Supreme Court determined rape as follows: the inclusion of the male genitalia in the female genitalia. However, women were also subjected to rape in a variety of ways, anally and orally. With various objects, truncheons, boot tips etc. There were such incidents in the cases that were reported to us and they were not considered as rape. There was no definition of sexual harassment as a crime.
Sexual torture is a torture method which is very difficult to document. Because if the woman is a virgin, a physical report must be obtained within the first seven to ten days. Because after 10 days it is considered as an "old tear". If the woman is not a virgin and has not bathed, has gone to the doctor within 48 hours and DNA samples taken, you could get a physical report. If these conditions are not met, you don't have a chance to get a physical report and the only way left is to document it as a psychological report.
At that time, there was a trauma centre under the leadership of Professor Şahika Yüksel at Çapa Medical Faculty. We started working with them and directing women to them. Later, the General Directorate of Security prepared a report about Şahika Yüksel, me and Fatma Karakaş, the lawyer who worked with me. Supposedly, we were going to prisons and we were forcing women to say "we were raped and harassed". They claimed we are connected with terrorist organisations. We were tried on these charges and received fines.
Then, in 2005, changes were made to the Turkish Penal Code. At that time, significant changes were made thanks to the influence of the European Union and the strengthening of the women's movement and demands. Violence against women became a chapter title. The definition of sexual assault and rape expanded and sexual harassment entered the law as a definition of crime and honour killings were no longer a reason for a discounted sentence. These were important developments. Then, in 2011, the Istanbul Convention was signed.
ET: Under what conditions and with what requirements was the Istanbul Convention signed? How was it decided?
EK: In 2005 very important changes were made to the law, but the male-dominated and feudal view of the legal system did not change. Nothing has changed. In Turkey, there is impunity regarding violence against women, especially if the perpetrator is police, gendarme, a soldier or a guard.
The Convention on the Elimination of all forms of Discrimination against Women (CEDAW) was also signed years ago, but nothing is reflected in the legal system in any way. Let me give an example: we went to a prosecutor with a case where the woman was subjected to violence and rape by her partner. The prosecutor said: "Okay, I don't need to look at the report or anything. The man is already the lover of the woman." It is immoral for a woman to even have a boyfriend. This response is normal. Of course, there are also good judges, but the judiciary is highly male dominated. As for trans people, the legal system is extremely homophobic and transphobic.
Unfortunately, changes in domestic law and international conventions are not reflected in legal practices sufficiently. If a woman or a LGBTQI person has been subjected to sexual torture or sexual violence, prosecutors and courts only accept forensic reports as evidence, although there is no legal obligation. However, forensic medicine is an official state institution where doctors receive a salary from the state and are affiliated with the power structure. Independent doctors work in hospitals or human rights foundations, but they still do not accept reports received from such institutions as evidence. They only consider forensic reports.
In 2005 very important changes were made to the law, but the male-dominated and feudal view of the legal system did not change. Nothing has changed. In Turkey, there is impunity regarding violence against women, especially if the perpetrator is police, gendarme, a soldier or a guard.
ET: How was the Istanbul Convention accepted in 2011?
EK: The Government became a party to the Convention without thinking too much about how important the content was. Of course, in addition to this, the policies of the Justice and Development Party (AKP) were a bit softer at that time. They cared more about the European Union. Then the peace process with the Kurds started and everything was more moderate. But after, the AKP started to return to harsh securitised policies.
The most important difference of the Istanbul Convention from other conventions for Turkey is that it said "so-called honour". The convention says that " Parties shall ensure that culture, custom, religion, tradition, or so-called 'honour' shall not be considered as justification for any acts of violence ". Such requests contradict the attitude of Turkey's traditional male-dominated family structure that glorifies masculinity. As the women's movement grew stronger and the demands increased this disturbed the ruling party, because violence against women is political. While you oppose the relationship of oppression between men and women, you also oppose racism, militarism and nationalism, and this threatened the government.
ET: What sanctions and implementations did the Convention impose on the prevention of violence against women and domestic violence? To what extent did this occurr in practice?
EK: In the case of a woman who was subjected to violence by her ex-partner, when I told the female judge "you are acting against the Istanbul Convention", she said "what contract, I have never heard of it". This example happened at a hearing only just last year. According to Article 90 of the Constitution, international conventions are considered above domestic law. When there is a conflict, international law applies. Despite this, it was not implemented in any way. During the Peace Process, practices were relatively better, but especially with the rise of authoritarian power practices, the basis of international law is not read and applied, let alone the Istanbul Convention.
The Group of Experts on Action against Violence against Women and Domestic Violence (GREVIO), is the independent expert body responsible for monitoring the implementation of the Istanbul Convention. This supreme institution monitors all signatory countries. The GREVIO report dated 2018, unfortunately, had no effect on Turkey despite direct criticisms. The report says almost everything I mentioned to you, but Turkey does not take anything seriously, it does not care.
Turkey does not comply with any international conventions signed at this moment. It's not just the Istanbul Convention, it is also the European Convention on Human Rights , the International Covenant on Civil and Political Rights , and the Convention on the Elimination of all forms of Discrimination against Women . Turkey does not implement any of these conventions. But it is not held accountable due to mutual economic interests. This is the main issue. In this sense, I blame the European Union a lot. The European Union is definitely not doing its part. Turkey can be removed from the Council of Europe. There is a GREVIO report, but to me, that report is written in an extremely soft language.
We did not see the Istanbul Convention being implemented in a single lawsuit. But the women's movements own the Istanbul Convention and are aware of its importance. At least it worked as a preventive mechanism and gave us a justification.
ET: Why was the Istanbul Convention important for immigrant and refugee women living in Turkey? What protection did it provide for migrant and refugee women?
EK: The Istanbul Convention applied to all women living in Turkey. It didn't matter if they were a Turkish citizen or not. Articles 60 and 61 of the Convention are entirely for migrant, refugee and asylum-seeking women. Let me give you an example: let's say that a woman was subjected to violence by her husband in Syria and fled to Turkey, this convention stipulates that women fleeing violence be granted refugee status. But Turkey has made a reservation to the Geneva Convention where it only grants Europeans the right to refuge. Turkey, however, temporarily protects asylum seekers before sending them to a third country.
In reality though, if a female asylum seeker came from Syria, they can be sent back due to suspected connections with to terrorism, we have dealt with such cases. No safe conditions stipulated under Article 59 of the Convention for refugee women existed in Turkey and no protective measure were taken for women subjected to violence.

In the past we always able to reach refugee women through women's organisations based mostly in the Kurdistan region when women asylum seekers were coming in. But the Government shut down all of those women's organisations and appointed trustees which were appointed to municipalities, before this we were in contact with refugee women easily. We receive a lot of sexual harassment and rape reports from these centres but only the good people working there come out and give us information despite the Convention saying that "you should include non-governmental organizations in every field." In particular, the Convention says you should facilitate the establishment of women's organisations and pave their way.
Political changes in Turkey have created a very bad situation for asylum seekers. For example, when we went to Antep for field work, we observed that all the hairdressers on a street were being used for prostitution. In those shops, 15-year-old girls are sold to 60-year-old men. There are women's markets in Antep and Urfa where refugee women are being sold. Their own families are making money from them. The father feeds on his daughter and the State does not prevent it. On top of this, two years ago, it was revealed that about 500 girls under the age of 15 gave birth in a hospital in Istanbul . The social worker who made this report was punished.
We did not see the Istanbul Convention being implemented in a single lawsuit. But the women's movements own the Istanbul Convention and are aware of its importance. At least it worked as a preventive mechanism and gave us a justification.
ET: Why were there demands for Turkey to withdraw from the Convention? How do you evaluate the situation especially in terms of LGBTQI+ individuals?
EK: It is very challenging to discuss gender rights in Turkey because these discussions threaten the government, its politics and its supporter base because the only way to maintain the scared traditional family structure of the Republic of Turkey is to maintain its official ideology. LGBTQI+ individuals threaten the existence of this structure. This male-dominated structure is also the nationalist, genocidal structure, so the shaking up of this threatens them very much. They are uncomfortable when this is brought up by women's movements. Women discuss everything from LGBTQI+ rights to genocide, they are the strongest movement, the most courageous and free movement.
In response, the president of Turkey glorifies motherhood. Have three children, he says. He also said " a woman without a child is an incomplete woman ." The head of the state who signed the Convention should not or cannot say these things.
ZCE: Does the women's movement in Turkey include immigrant and refugee women living in Turkey?
EK: Immigrant women stay in the background. In Turkey, unfortunately, there is also an order of opposition movements. For example, when there is an incident of violence against a woman in Istanbul, Ankara, Izmir, it gets more attention. Let's say a man kicks a woman for wearing shorts on the bus, the whole women's movement rightly stands up. But when a guerrilla named Ekin Van is exposed naked in Varto, only Kurdish women opposed this. Identity shouldn't matter. Whichever woman is subjected to violence, it should be opposed loudly, but unfortunately this is not the case, and this unfortunately also applies to migrant and refugee women. We made statements about refugee women and other women's organisations also made statements, but there is still a white Turkish view of Turkish feminism that is elitists and not inclusive. In the case of ethnic minority or immigrant women, there is no resistance in the same way.
For example, in the 90's, I went to autopsies of guerrilla women. Their breasts were amputated. I saw dead women being raped. There was no social media back then so we would be happy when there was even a little news in the Cumhuriyet newspaper. Only Özgür Gündem would write them. There is genocide in our past but the women's movement is not talking about this – it is strong but incomplete. For example, what happens in refugee camps? I think if the women's movement expresses this a little louder, the camps would open up for us to meet with the women. But the women's movement has shut off all association with Kurdish women, they don't want solidarity.
The women's movement is spreading very quickly, because it is a huge area of victimisation and every woman can own it, but to prevent this, some have tried to silence other women.
ET: What does Turkey's withdrawal from the convention mean for women's and LGBTQI rights in Turkey?
EK: The Istanbul Convention was not properly implemented in practice, but it still created a moral security for women and trans women. We could request the implementation of the Convention from the courts, even this much was reassuring. On the basis of this convention, we (lawyers) were able to state the following in the cases of violence:
1. We were ensuring that the cases of violence were completed in a shorter time
2. We could argue that women's statements should be accepted as essential
3. We could say that concepts such as honour, customs and traditions cannot justify violence
These rights have now been taken from us.
This interview is translated from Turkish. We have endeavoured to maintain the authors voice in our translation throughout.
Image credit: Comunitatea Declic (CC BY-NC-SA 4.0)