Art and Memory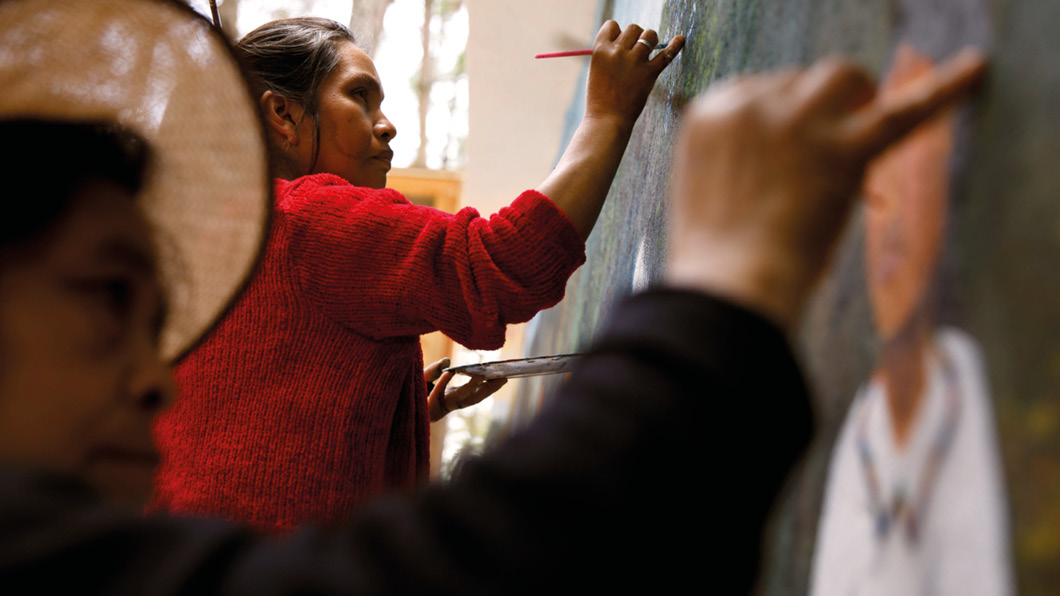 This event was held on Zoom on 28 July, 13:00 – 14:00 (BST).
This event will discuss the role of the arts in remembering and making visible the effects of conflict, especially its hidden and uncommon narratives. Speakers will discuss their current work: memorialising Lebanon's civil war and asking how filmmaking can make visible the stories of the disappeared hidden in mass graves; how oral narratives on conflict-related sexual and gender-based violence in Northern Uganda can be revealed through song; and discuss art and memory as historiography by drawing on artistic work featured in the World Art and Memory Museum.
Speakers:
Chair: Garima Dutt is a media and content consultant, teacher, writer and editor, and amateur arts practitioner based out of Delhi, India. She conducts art therapy, communication, storytelling workshops combining arts, poetry and theatre. She volunteers as a core team member of Yakjah. She is also an actor/activist with Pandies' Theatre – an activist feminist theatre group. An alumna of Delhi University, Indira Gandhi National Centre of the Arts and the Indian Institute of Mass Communication, Garima holds masters degrees in Communication, Literature and PGD in Cultural Informatics.
Hasini Haputhanthri is part of a global network of practitioners on peacebuilding, education, cultural and heritage management. She has over 15 years of experience in international development, out of which she worked as a Technical Advisor for Deutsche Gesellschaft für Internationale Zusammenarbeit (GIZ) for 10 years. Since 2017 she has been an independent consultant, working with a host of local and international organisations, addressing the challenges of global-local nexus in establishing a culture of peace.
Stephen Oola ( @oolalawyer ) is the Director Amani Institute Uganda . He is currently, Senior Advisor -Legal and Constitutional Affairs at the Reconstituted Joint Monitoring and Evaluation Commission (RJMEC) Juba, South Sudan overseeing the implementation of the Peace Agreement in South Sudan. Oola's research interest and expertise are on Human Rights, Constitutionalism, International Criminal Law, Transitional Justice, Post-Conflict Peacebuilding, Reconstruction and Development in Africa. Oola is a co-investigator on the "Beyond War Compensation: Gender Justice, Livelihood and Rights in Northern Uganda", a collaborative research project being undertaken with the College for Humanities and Social Sciences (CHUSS) Makerere University.
Daniele Rugo ( @followingwires ) is an award-winning filmmaker, Reader in Film at Brunel University London and currently a Visiting Professor at Sciences Po. His work focuses on conflict and sustainable peace. His latest feature documentary About a War explores violence and social change through the stories of former militiamen from Lebanon's civil war. He is the author of three books and several journal articles. He is also an affiliate of the Centre for Lebanese Studies in Beirut.
Image credit: UN Women (CC BY-NC-ND 4.0). Artists María Nicolasa Chex and Paula Nicho Cumez paint scenes of indigenous cultural life on one of the murals adorning the "Center for the Historical Memory of Women" outside of Comapala.